9 Great Cheap Furniture Ideas If You're on a Budget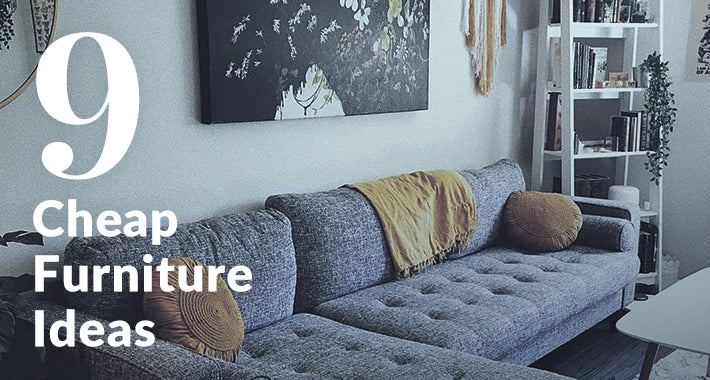 Furnishing your apartment or home is hard enough—but doing so on a tight budget adds a whole new level of difficulty.
Fortunately, there are some great-looking and long-lasting pieces of furniture available. And to help you find them, we have compiled our picks for the best pieces of furniture for any budget.
Whether you are looking for chaises, chairs, sofas, or sectionals, you will find outstanding values on this helpful list. So, without further ado, here is your guide to 9 cheap furniture ideas.
Sofas
Our Pick: Solis Contemporary Box-Tufted Linen Sofa, $269.99
If you're tight on space and funds, the Solis is a great option. This lively and modern sofa is an easy way to spruce up any living area. But just because your sofa is small doesn't mean it isn't mighty.
The soft-yet-durable cushioning is set on a masterfully-crafted hardwood frame, and the box-tufted linen fabric also means you will be able to enjoy comfortable seating, whether sitting up or lying down. Plus, each Solis comes with two throw pillows and seven vibrant upholstery colors to choose from.
Sectionals
Our Pick: Camila Contemporary Velvet Space-Saving Sectional, $299.99
When elegance meets comfort, you get the Camila. This plush sofa comes in three vivid colors to add a splash of charm and style to your home or apartment. Capable of seating three people, when you buy this sectional it will be the centerpiece for all your get-togethers.
The Camila is designed with comfort in mind. This lounge-style sectional is upholstered in silky- smooth, irresistibly-touchable velvet; just lay down with one of its two decorative throw pillows, and you will see why people never want to leave.
Loveseats
Our Pick: Nikki Contemporary Space-Saving Loveseat, $199.99
Nikki is a compact, curvy loveseat made for those with a limited amount of space, and we feel that this modern mini-sofa is perfect for any living or family room.
The Nikki is made up of plush linen cushions set on top of a durable hardwood frame and includes a pair of accent pillows. You also have seven different upholstery colors to choose from—and, best of all, the Nikki will only set you back a modest $19 per month.
Futons
Our Pick: Madrid Contemporary Linen Sleeper Chaise Lounge, $199.99
This is the kind of furnishing that could easily be found in the most upscale contemporary homes. Fortunately, this futon retails at a bargain of a price. Beautifully sleek and modern, the Madrid Sleeper Chaise Lounge is perfect for whether you want to watch TV or need a single-sized sleeper.
The Madrid Sleeper Chaise Lounge deftly blends comfortable cushioning with a structurally sound frame. Decorated with striking wooden legs and a decorative pillow, this futon exudes an aura of elegance. Discover the difference this futon can make for your home today.
Chaises
Our Pick: Winter Victorian-Inspired Velvet Accent Chaise Lounge, $199.99
This is where luxury meets affordability. While this chaise looks like it could be in a modern mansion, you can easily have it for under $200. The Winter takes inspiration from Victorian-era architecture with its elegantly crafted wood legs and delicate nailhead trim.
Perfect for any living space or office, the Winter will be the chair everybody clamors for, thanks to its soft upholstery and four accent pillows. So, if you want a taste of opulence in your household, look no further than this chaise.
Accent
Chairs
Our Pick: Leyvi Classic and Timeless Accent Armchair, $99.99
Don't let this chair's simplistic appearance fool you, because this piece of furniture is built to last. Made with a sturdy hardwood frame, the Leyvi will last for years to come. Whether you want to add seating to your family room or porch, the Leyvi is sure to become a favorite.
The Leyvi offers a modern aesthetic thanks to its square, low back, and clean edges. The upholstery also comes in solids like white and grey, as well as a Dutch-inspired butterfly pattern. When you want to add some pop to your home on the cheap, the Leyvi is the punch you need.
Ottomans
Our Pick: Lawrence Tufted Linen Bench with Storage Tray and Golden Button Accents, $99.99
When bourgeoisie meets bargain, you get the Lawrence. The Lawrence has the panache of classic furnishings, but the price tag of a clearance store. Whether you are looking for a place to stretch your legs or sit while you tie your shoes, this is an item you will wonder how you lived without.
The Lawrence is composed of soft linen, and neatly decorated with evenly-spaced gold buttons that accent the clean lines of this ottoman. Plus, there is a storage tray integrated beneath the cushion, to keep any relaxation necessities nearby.
Kitchen
Dining
Chairs
Our Pick: Abela Simply Modern Linen Two Tone Kitchen Dining Chairs, $89.99 (set of 2)
Whether you need chairs to pull up to a counter or family-sized table, the Abela set has your back. Minimalist in design but maximum in comfort, these ergonomic wonders will be a welcome addition to any home. And with a price tag of only $89.99 for two, these chairs will fit any budget.
The Abela is remarkably light despite its durable frame and is upholstered in two-tone linen. Color options include beige and white, grey and blue, and white and brown. See why people everywhere are clamoring to take a seat in an Abela.
Storage and Organization
Our Pick: Parrish Mid Century Modern TV Stand with 2 Side Cabinets, $89.99
If you are an avid TV watcher or video game aficionado, you need a stand worthy of your TV…and the classically-designed Parrish Credenza fits that bill quite nicely. Featuring both a clean, simple design and strong structure, this credenza can hold whatever size television you place on top of it.
The Parrish Credenza comes with spacious storage cabinets for all your games, photos, or audio equipment. The natural-looking grain of the composite wood also helps add a touch of sophistication to the décor of your home or apartment. It even comes in five different shades.