17 Sectional Sofa Designs You'll Love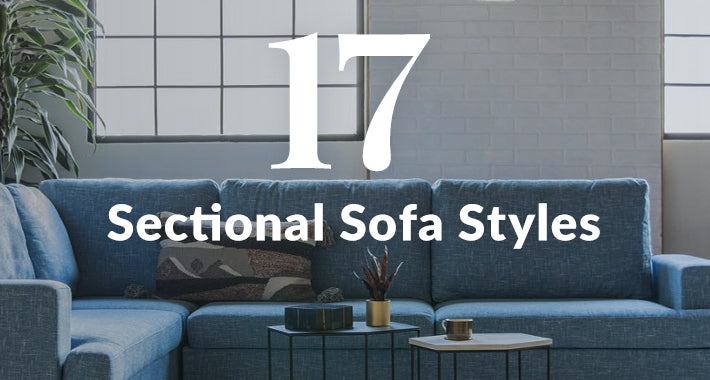 Is your living room design in dire need of an upgrade? If you're thinking about reinventing your living space, choosing a unique style sectional sofa as the new focal point is an excellent decorating idea.
Not sure if a sectional sofa is right for your living room? Scroll through our guide below for unique ideas and stylish sectionals that go beyond just furniture accessories—we bet you'll find one you love!
1. Velvet Simplicity
The Amanda modern velvet large sectional sofa is a gorgeous focal point for any living space. Deep, wide seats, sleek lines, and plush velvet upholstery for texture ensure it is as comfortable as it is beautiful. It's visual delight available in a rich eggplant purple, soothing navy, cool grey, and classic and sophisticated black.
2. Vibrant Retro Charm 

Brighten up your living room with the Pride vibrant mid-century space-saving sectional! Bold, sassy, and stylish in lime green, this is one of our favorite sectional sofa designs for smaller spaces. Its subtle quilted upholstery really highlights its retro charm.
Nostalgic, yet modern, this sofa is bound to be a prime conversation starter.
3. Cute and Compact
Another of our sectional sofa designs that work beautifully in a small space is the Lisa—a vibrant, contemporary, small space-saving sectional sofa, which is unforgettable in teal, gold or green overtones. You can configure the chaise to the left or the right, and you'll love snuggling up against the overstuffed cushions and exquisite accent pillows.
4. Cushiony Comfort
One of the most important aspects of a great sectional sofa is comfort, and our Joanne classic linen sectional comes out on top. With a left chaise lounge, it is a winner in the "cozy" department, and, of course, it's beautiful. Plenty of plush, moveable back pillows makes it easy to customize to your tastes as well.
5. Recline in Style
The Orion is our modern, small recliner with a chaise that is one of our most classic sectional sofa designs. If you've got limited space that you want to jazz up, you can't go wrong with this luxurious (and comfy!) classic bonded leather sofa, in black.
6. Versatile and Reversible
Versatility is one of the most appealing traits of a stylish sectional sofa, and the Almonte reversible contemporary large futon sectional sofa has boatloads of versatility! With individually reclining seats and a completely flat futon-mode, this sofa is a great way to utilize your living space!
7. Seventies Swag
Mid-century modern isn't the only retro style that works for sectional sofa designs. Our Davina large tufted sectional sofa is inspired by the comfortable and stylish lounges of the 1970s. Smooth velvet married with rich, autumn-inspired tones makes for a totally groovy look that's fun and inviting.
8. Leather Luxe
Is there anything more luxurious than a big, overstuffed leather sofa? This ultra plush recliner seats the whole family in comfortable bonded leather that doesn't sweat or strain. You'll love all the extra room and the elegance of the Bond 6-seat leather reclining sectional sofa—it's the perfect centerpiece for a relaxed and happy home.
9. Minimalist Chic
Sometimes less is more! The Amanda modern faux leather large sectional sofa is a triumph of minimalist design. Vegan-friendly, PU leather in black or white, and a simple, streamlined design to complement the deep, comfortable seats, and wide chaise.
10. Gorgeous Geometry
Modern doesn't have to mean lacking in personality! Our Albert sectional is one of our best sellers and it's easy to see why our customers love the geometric wonder. Its adjustable head and armrests mean that every guest can make themselves comfortable and focus on the fun.
11. Pretty in Plush
Pairing pretty, plush velvet and a nostalgic style, our Polly retro space saving sectional is the ultimate way to brighten up a small living area. Vintage elegance, and a convenient remote pocket, it's available in three trendy color options: warm burnt orange, cool understated grey, and a rich royal navy.
12. Timeless Appeal
The Ivan Victorian chesterfield leather match sectional, with a right-side chaise, is a timeless design in soft top-grain leather. Every detail of this affordable sectional sofa was designed with sophistication in mind, from its scrolled armrests to the diamond-patterned tufting, and elegant, sturdy legs. It's comfortable enough for a family couch but luxurious enough to impress clients at the office.
13. Glossy Good Looks
The Loft leather mix sectional sofa is ultra-modern, ultra-glossy, and ultra-stylish. Perfectly at home in either a small apartment or a studio, this Buffalo-mix leather sectional is a gorgeous way to add polish to your interior décor. It's also as comfortable as it is stylish, with high-tech, high-density foam in the seats and back cushioning.
14. Room to Stretch Out
When you've got space to stretch out, why not choose a sleek, comfy sofa like our Paulie oversize new wave leather match sectional. Adjustable headrests and buttery soft leather paired with deep, roomy seating make this one of our favorite sectionals!
15. Mid Century Contrast
Velvet and mid-century styling meet in our Alanna small modern velvet sectional sofa. Both the sofa and its matching ottoman feature angled mid-century style legs, and soft, comfortable back cushions in contrasting colors. Warm brown and creamy taupe give this lovely piece its own unique charm.
16. Sleek and Simple
Mid-century style is hot right now, and the Andrew mod Hollywood Hills leather match sectional is one of our favorite interpretations. Sleek, simple, and comfortable, it embodies the minimalist grace of this charming era. Deep seating, a comfortable chaise, and clean lines make this sectional a perfect fit for any type of décor.
17. Bold and Bright
Last, but not least, our Lisa contemporary small, space-saving sectional sofa proves you don't need a huge sofa to make a big, bold statement. Vibrant in teal, gold or lime, this compact little sofa will brighten up any corner, no matter how small. This eye-popping sofa has a big personality!
When it comes to buying sectional sofas, many people envision massive, overstuffed furniture with scratchy, outdated upholstery. Today's sectional sofas, however, come in a variety of beautiful and modern styles including simple and elaborate, large and small, and bold or understated. There's truly a sectional sofa design for any room and any style of décor!