The 10 Best Couches for Small Living Rooms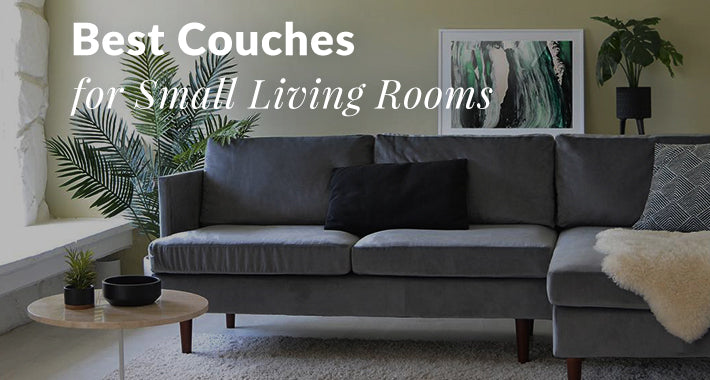 Finding the right couch or sofa for a small living room can be a challenge. Even if you do come across a custom couch or sectional, there is a good chance the price tag is more than you care to spend.
There are many great ways to furnish a shoebox-size living area. Whether you are looking for modern aesthetics or a style that matches your existing interior design, there is small-scale furniture out there for you. Here are our 10 best couches and sofas, no matter what your budget is.
Joanne Classic Linen Sectional with Left Chaise Lounge
This classic sectional is a welcome addition to any home, be it small or large. The elegant design and flowing curves will immediately elevate the aesthetic of your living space. Measuring eight feet (96 inches) in width, the Joanne is perfect, whether you want to sit up or sprawl out to watch a movie.
The aura of sophistication is only matched by the softness. The Joanne features a plush left-facing chaise and a collection of back pillows so you can be comfortable however you use it. With five different colors to choose from, this sectional is a game-changer for any small living space.
Dimensions (H x W x D): 28" x 96" x 56"
Jane Modern New Wave Two Tone Velvet Sofa
The Jane Sofa is panache for any budget. For only $19 a month, you can bring your home to life with this sleek and stylish sofa. This one-of-a-kind centerpiece will get all the right kinds of attention when guests visit.
Each Jane Sofa comes in a striking two-tone palette. The edges are highlighted in white, red, or black, and this velvet sofa is remarkably plush.
And while these sofas are technically considered to be small in size, they feel spacious—once you recline on this sofa, you may never want to leave. If you're a looking to decorate your home with a modern vibe, this couch is a must-have item.
 Dimensions (H x W x D): 30" x 79" x 29"
Albert Modern Bonded Leather Sectional with Right Chaise
Sleek. Spacious. Stylish. The Albert Sectional is the epitome of modern living done right. That's because it is made with comfort in mind. And between this sectional's manageable size and thoughtful features, like adjustable headrests and armrests, the Albert really does measure up.
Made in two classic tones, the Albert Sectional bolsters the aura of any living space. And this just isn't a good-looking, small sectional—this furniture is built to last. Not only is the upholstery made of the finest bonded leather, but the design has been time-tested for durability. For people to add a modern flourish to their furniture, we've found your match.
Dimensions (H x W x D) 33" x 106" x 77"
Savannah Classic Executive Style Leather Match Loveseat
The Savannah is where comfort meets compactness. We understand the space in your small living room is valuable. That is why we merged all our best features into one wholesome design.
Composed of top grain leather match, the Savannah is a high watermark for loveseat manufacturers. The scrolled arms are a majestic touch, and the back cushions provide the ideal amount of plushness. Plus, the elegant nailhead trim finishes off the edges with a tight, clean look.
This all-in-one versatility makes the Savannah great for the home or office. It also comes in five different colors to ensure a match with whatever interior design you have. Get this loveseat today—before they disappear.
Dimensions (H x W x D) 39" x 59" x 35"
Angolo 2 Classic 2-Piece Sectional Ottoman Set
The Angolo Sectional Set is truly an iconic piece of furniture. Designed to handle any location, this sectional will be the place where your guests or family will want to gather. With its timeless design and rounded features, this set brings together the best of both worlds when it comes to looks and comfort.
The Angolo Sectional Set is solidly constructed with microfiber composition and intricately buttoned details, and the addition of the tufted ottoman makes stretching your legs that much easier. When it comes to an added level of sophistication for your small living room, look no further than this sectional.
Dimensions (H x W x D) 35" x 112" x 84"
Carter Modern Reclining Leather Sofa Set
Just picture the scene: You are hosting a house-warming party. All of your closest friends and family are going to be there. You want people to enjoy themselves and relax, but your current seating arrangement is less than ideal. It's times like these that call for the Carter Modern sofa set.
The Carter Modern Sofa Set is the most expensive item on our list, but only because it is worth every dollar of it. If you have a taste for fine furniture that has best-in-class durability, you have come to the right place. Made up of three small love seats, this sofa set is a perfect blend between both modern and classic design elements.
The crisp, weatherproof fabric exudes sleekness and comfort. Each loveseat also reclines so that you can get cozy with just the touch of a button. When it comes to furniture without compare, you have met the maker.
Dimension 1 (H x W x D) 37" x 39" 40"
Dimension 2 (H x W x D) 61" x 39" 40"
Dimension 3 (H x W x D) 83" x 39" 40"
Delano Modern Low Profile Sectional Sofa with Chaise
For a dash of mellow, laid-back charm, the Delano sofa has you covered. This low-lying sectional is an easy way to add a seamless and contemporary allure to your living room. The light linen fabric comes in two shades, so you don't have to sacrifice style.
The Delano sofa includes a plethora of plush throw pillows, and is for anyone in need of an ultra-comfortable sectional—but who also does not want to sacrifice on looks. For one of our best-rated pieces of furniture, don't pass up this sofa.   
Dimensions (H x W x D) 30" x 112" x 76"
Solstice Modern Tufted Button Seat Leather Match Sofa
When you need versatility in your sofa, the Solstice is there for you. Not only does this tufted button sofa come in five different colors, but also it looks great wherever you put it. The ideal blend of compact and comfort, you will easily find a place for the Solstice in your family or living room.
The plump tufted seats are wrapped in a top grain leather match. The sofa is held together with a finely-crafted, hardwood frame that gives users the ability to adjust their armrest to their desired comfort. Great for any small space, this sofa is a bargain at any price.
Dimensions (H x W x D) 34" x 87" x 32"
Paul Classic Bonded Leather Recliner Sectional
The couches on this list are specifically designed for small-size living rooms and apartments. But if you want to maximize every inch of seating space possible, the Paul sectional will surely measure up. Designed in the shape of a gently curving "L," this sectional is made to handle big families or groups.
The Paul can seat up to six people comfortably and features a pair of reclining seats on either end. The sectional is composed of long-lasting bonded leather upholstery, which comes in three bold colors. The exposed stitching is a striking touch for some added modern pizzazz.
And there's more. The Paul has multiple armrests that include cup holders and concealed compartments so that you'll never lose your remote or reading glasses again.
Dimensions (H x W x D) 103" x 37" x 90"
Athens Traditional Linen Recliner Chair
The Athens Recliner Sofa exudes relaxation. The thick and spongy cushions will envelop your body for the maximum level of comfort every time you kick back and relax. Measuring in at just over six feet, this sofa is the perfect design for any small space, from the living room to the nursery.
The classy linen exterior and timeless, soft shade of grey make this an exclusive piece you will not want to pass up on. Plus, the Athens Recliner Sofa is easy to clean. If there is a recliner sofa better than this, we have yet to see it.
Dimensions (H x W x D) 36" x 76" x 34"
Conclusion

:

There are many different factors to consider when furnishing your home or apartment. Staying within budget and being flexible with your preferences is important, but make sure to think about the big picture. With only a small amount of space available, every decision you make has a marked impact of the rest of your living area.

This list is here to help you find the perfect couches for small living rooms. Whether you are looking for a spacious sectional or a simple reclining couch, there are plenty of options that are more than worth your consideration. Hopefully, a single scroll of the list will provide you with the necessary insight and information you need when it comes to buying the best couch for your small space.